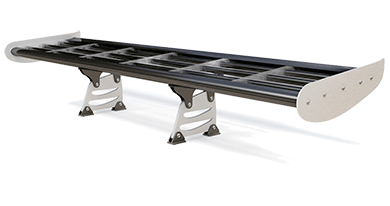 Create a unique spring-loaded "fluid" rear wing that changes shape and increases downforce as vehicle speed increases! The unique speed sensing, automatically adjusting 200+MPH UltraWing delivers maximum downforce with minimum drag.
The Drag & Downforce Dilema
The same principle (Bernoulli Effect) that allows an airplane to rise off the ground by creating lift under its wings is used in reverse to apply pressures (downforce) that force a wing-equipped racecar against a track's surface. However, downforce also creates drag.

The relationship between traction-enhancing downforce and performance-robbing drag is paramount in the engineering and design of a rear wing. Downforce is key for maintaining speed through the corners. Unwanted drag that comes as a byproduct of downforce will slow the car down.
Thanks to patented "FluidTek" engineering, the UltraWing Kit makes it possible to create a unique variable downforce rear wing for any car - sport compact to exotic. A variety of spring tension settings enable the tinted Polyester film-covered UltraWing to change shape as speed increases. With an infinitely adjustable rate of downforce, an UltraWing can be easily preset to allow any vehicle to reach its total performance potential.
Kits include end caps, uprights, connecting tubes, a variety of six polyester coverings and ribs, offering 10,000 possible combinations! Engineered and developed specifically for "Tuner" cars, the UltraWing has been real world tested and performance-proven on Mitsubishi Evo and Ferrari 550 Maranello test cars.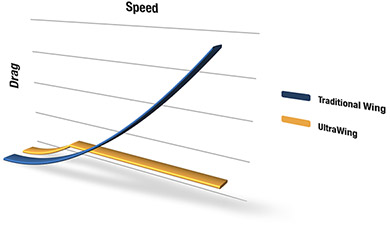 The customizable UltraWing offers both performance and head-turning style advantages, making it the perfect choice for street, show and race cars. Working with a maximum wing length of 60 inches and 2.3-inch tall, 12.4-inch wide uprights, an UltraWing can be fitted and finished for almost any vehicle. The finished wing's length can be reduced in one-inch increments, giving it truly universal appeal. Wrapped in tinted 200+MPH UltraFilm, the UltraWing can be color matched to a vehicle's window tinting or painted to complement exterior color.
Specifications
60 inches wide
2.3 inches tall
"fluid" dynamics changes shape and reduces drag
highly customizable